What Are Disposable Vapes? Your Ultimate Guide to Disposables in 2023
Disposable vapes are beginner-friendly and make it easier than ever to quit smoking cigarettes due to their ease-of-use, convenience, and hassle-free vaping. In our guide to disposable vapes, we'll outline everything you need to know to get started on your vaping journey.
You've probably seen them in your travels: small, super portable devices in an array of bright colours taking the vaping world by storm. Disposable vape kits, usually shaped like vape pens or matchboxes, make it easier than ever to start vaping if you're used to smoking traditional cigarettes.
Thanks to recent innovations, you can now enjoy vaping without all the hassle that used to come with the territory. Where once, you had bulky box mods with glass tanks and often tedious upkeep, you can now simply purchase a disposable vape, unbox it, and vape. It's as simple as that.
Prefilled with nicotine salt E-Liquid and packing up to 600 puffs per e-cigarette, disposable kits are ideal for new vapers because they remove all of the guesswork. Plus, with such a huge range of disposable vape flavours on the market, there's something for every vaper's palate!
Our guide to disposable vapes will break down everything you need to know about these vaping devices, including how disposable vapes work, how to use them, what the best disposable vape brands and flavours are, and more!
What are Disposable Vapes?
Disposable vapes—otherwise known as puff bars, vape bars, disposable e-cigarettes, or simply disposables—are small, portable vape kits that come pre-charged and prefilled with 2ml of vape juice.
This type of E-Liquid, called nicotine salts, offers a smooth inhale and a quick nicotine delivery thanks to its special formulation, making it perfect for new vapers who are transitioning away from traditional cigarette smoking. If you're curious to learn more about what makes this E-Liquid perfect for ex-smokers, check out our guide to nic salts.
Most disposable vapes are available with a 20mg (2%) nicotine strength, but you can also find an array of disposable pod kits with a 10mg (1%) strength, and even some which are nicotine-free (0mg).
How Do Disposable Vapes Work?
Disposable vapes work by conducting electricity from the battery to the coil, which then heats the E-Liquid and turns it into vapour.
To understand disposable vapes, you have to know the anatomy of a vape device. Vape kits all share a few of the same parts: a battery, a reservoir to hold the E-Liquid, and a coil (also called an atomiser), which contains a wicking material.
The heating element inside a vape—the coil—is surrounded by a cotton wicking material which absorbs the E-Liquid so that the coil can vaporise it. In a refillable device, the coil needs to be regularly changed because the cotton degrades over time.
But in a disposable vape kit, the coil lasts as long as the E-Liquid does, and the limited battery life ensures you are never left with a burnt taste or an empty pod. This is one of the factors that makes disposable devices so easy to use.
How Do You Use a Disposable Vape?
To use a disposable vape, all you have to do is open the packaging, remove the sticker from the airflow valve and the silicone plug from the mouthpiece, and start vaping! Operating your new disposable vape is really that simple.
Disposable vape devices are incredibly easy to use—perfect for your elderly nan who just can't quit the cancer sticks or your dad who's technologically impaired. There are no E-Liquid refills, recharges, or spare parts required, and all you'll need is a steady supply of disposable kits to sustain your vaping habit.
How Long do Disposable Vapes Last?
How long a disposable vape will last will vary depending on your usage and your previous smoking habits, though as a general rule of thumb, a moderate to heavy smoker will go through roughly one disposable vape kit per day.
Most disposable vapes typically offer up to 600 puffs each and have a 20mg (2%) nicotine strength, which means that each disposable vape will provide roughly as much nicotine and as many puffs as a pack of cigarettes.
It's important to note that disposable vape puff counts aren't always as advertised, which is why we use the phrasing "up to." Most disposable vapes advertise 600 puffs, but this is a maximum count, and in practice, you're more likely to get about half that number from any given disposable.
This is because the advertised puff count is calculated by a machine, which measures the maximum number of puffs it can achieve from a vape and rounds the number up to the nearest hundred. The machine's puffs are less than a second long, which isn't conducive to how humans actually vape in practice.
Still, the average cigarette takes 10 to 15 puffs to smoke from start to finish. If you multiply this by 20 (the number of cigarettes in a pack), that's between 200 and 300 puffs. A 600-puff disposable vape should deliver at least that many puffs, equivalent to a pack of cigarettes.
What are Disposable Vapes Made Of?
Disposable vapes are usually made of a mixture of plastic, copper, rubber, and a lithium-ion battery. Some newer models have an aluminium shell instead of plastic. They also contain E-Liquid; even when the disposable is spent, there is still some leftover E-Liquid inside.
Are Disposable Vapes Safe?
According to the UK government, Cancer Research UK, Public Health England, and health bodies across the globe, vaping is at least 95% safer than smoking cigarettes. This is because the vapour from an e-cigarette does not contain any of the tar or carbon monoxide (or any of the thousands of other toxic chemicals) found in tobacco smoke.
It's important to note that disposable vapes are no more or less safe as any other vaping products on the UK market due to the rigorous testing and approval processes that vape products undergo before then can legally be sold.
In addition, the UK government states that vaping is the most successful smoking cessation aid we currently have, with an estimated 59.7% to 74% success rate in helping smokers quit. This is higher than any other tool or NRT (Nicotine Replacement Therapy) product, including nicotine patches, gums, lozenges, and even medication.
So, if you're vaping to quit cigarettes, this will absolutely be a boon for your health.
However, if you've never been a smoker, you shouldn't be vaping. Vaping is not risk-free for non-smokers, even if you're vaping nicotine-free. Do not vape if you've never smoked.
Pros & Cons of Disposable Puff Bars
Disposable vapes make for an awfully convenient vaping experience, but they have their positives and negatives, from the portability and lack of set-up to their cost and environmental impact.
Benefits of Disposable Vape Devices
Disposables offer convenience and simplicity above all else, making them ideal for beginners and on-the-go vapers.
No Setup or Maintenance
Disposable puff bars require absolutely zero set up or maintenance, save for the removal of the safety sticker and/or rubber stopper.
These vapes are ready to use straight out of the box. Whereas with refillable vape kits and pod kits, you'll need E-Liquid, a device, a charger, and a fresh coil or pod, disposable vapes are an all-in-one, pre-prepared vape experience.
Plus, for those who are new to vaping, there can be a learning curve with refillable vape kits. Learning about the different types of vaping styles, kits, coils, tanks, E-Liquids, required maintenance, and so on can be daunting to newbies, but disposable vapes take all of these hurdles out of the equation.
A simple vaping device which works right out of the packaging offers less friction and a better chance at successfully making the switch.
Great for Commutes & Nights Out
Whether you're planning a night out or you've got a commute to work or uni in the morning, disposable vape pens offer a portable, hassle-free option which can easily be stored in a pocket or handbag.
Even diehard experienced vapers don't necessarily want to bring their bulky everyday mod with them on the go. It could be damaged, stolen, or lost—but a disposable vape is a cheap, low-risk alternative.
For as little as a few pounds, you could have a disposable vape kit that you won't mind dropping or forgetting at the pub.
Cons of Using Disposable Vapes
For all of their benefits, disposable vapes also have some downsides—namely, for your wallet and the planet.
The Cost of Disposable Vapes
While you'll most definitely be saving money by switching from smoking to vaping, you won't be saving as much as you could if you were to use a refillable vape kit. A disposable vape habit can cost you a lot in the long run.
If you were to smoke a pack of cigarettes a day at £13.45 per pack, this would cost you £4,909.25 per year, or £403.50 per month.
Now, by switching to disposable vapes, you can save over half your money. A year's worth of disposables at £4 each (based on our popular Mix & Match 3 for £12 offer), you'll still be spending £1,460 per year. That's about £120 per month.
But if you were to switch to using a refillable and rechargeable vape kit instead, you could save even more. With a cheap vape kit that costs £9.99 up front, plus 2ml of premium E-Liquid per day (the same amount a disposable vape has) and the cost of replacement pods, you'll only end up spending about £374.99 per year. That's less than £40 per month, which is about a third of the cost of disposable vapes.
| Method | Cost Per Month | Cost Per Year |
| --- | --- | --- |
| Smoking Cigarettes | £403.50 | £4,909.25 |
| Disposable Vapes | £120.00 | £1,460.00 |
| Refillable Vapes | £38.99 | £374.49 |
So, if your wallet is feeling light, you should consider opting for a starter vape kit instead. They're easy to use and maintain, though they do require more upkeep. Still, starter kits have benefits that disposables don't afford, like endless E-Liquid flavours to choose from, better battery life, and a more customisable vaping experience.
We cover the best beginner kits and how to start using them in our Beginner's Guide to Vaping if you're considering a refillable starter vape kit.
The Ecological Impact of Disposable Vapes
Disposable vapes aren't good for the planet. Even when they're empty, they contain plastics, a lithium-ion battery, and leftover nicotine salt E-Liquid, plus the heavy metals that form the interior elements of the device.
At the moment, we don't have an efficient way to break down disposable vapes into recyclable elements, which means that a majority of them end up in landfill to break down and pollute the environment. There are even issues with the batteries combusting and causing fires at landfill sites.
When these vapes are left to break down, they seep their plastics, metals, and E-Liquids and end up polluting waterways and soil, which can harm the ecosystem.
Many disposable vapes have no recycling or disposal instructions, and even if they did, disposable vapers have a habit of chucking their spent disposable devices in their regular landfill waste—or even worse, in the street.
While there are a number of new initiatives from disposable vape companies to combat the disposable vape waste issue—from the 99.29% recyclable Slix Bar to the new modular design of the Elf Bar 600 V2—a majority of disposable vape brands still have a lot of catching up to do.
So, for the sake of the planet, it's not a good idea to rely on disposable vapes as your everyday vape kit. If you use disposable vapes as a stepping stone into vaping, that's great—but you should try to transition to a more sustainable alternative, like a pod kit, once you've gotten the hang of vaping.
Alternatives to Disposable Vape Kits
There are plenty of rechargeable vape kits on the market offering alternatives to disposable vapes. These starter vape kits usually have refillable pods which you fill with a vape juice of your choosing. They also boast low-maintenance designs, portability, and convenience, just like disposables do.
One of the many benefits of refillable pods is that you have the tens of thousands of E-Liquid flavours the vaping world has to offer at your disposal.
Plus, pod systems are more customisable than disposable vapes are, allowing you to choose your vape juice type, your nicotine strength, the tightness of your draw, and more. You can even use nicotine salt E-Liquids in pod kits, offering the same great E-Liquid as a disposable vape.
There are even disposable flavoured E-Liquids on the market, which offer that ultra-concentrated flavour that you've come to love from brands like Elf Bar and Geek Bar in a refillable E-Liquid for use in pod kits, vape pens, and starter kits.
Who Should Use Disposable Vapes?
Disposable vapes are primarily designed for those who are trying to quit cigarettes and should not be used by anyone who has never smoked. They're also ideal for people who have mobility or dexterity issues, as they don't require any set up or upkeep and can be used by just about anyone, regardless of experience level.
However, it's not just beginners who love these vape kits. They taste exceptional. Even experienced vapers are stashing their advanced vaping devices in favour of disposable vapes, especially for nights out and commutes.
Still, not all vapers are able to use disposables. There is a subset of vapers with an allergy, intolerance, or sensitivity to propylene glycol (PG)—one of the main ingredients in vape juice. Vapers with a PG-intolerance should try 100% VG E-Liquids, which are completely free of PG.
However, it's important to note that this type of E-Liquid requires a specific type of vape kit to work properly. We suggest checking out the best vape kits for 100% VG E-Liquids if you're looking to vape PG-free.
Popular Disposable Vapes
The UK is dominated by a few major disposable brands, but new manufacturers are entering the UK market by the day.
What are the Best Disposable Vape Brands?
The best disposable vape brands in the UK right now are SKE Crystal Bar, Lost Mary, and Elf Bar. Other popular brands include Elux, Geek Bar, Slix Eco, and Gold Bar.
SKE Crystal Bar Disposables
Crystal Bars are a range of popular disposables which are unique in that they integrate a mesh coil as opposed to a wire coil, which has a greater surface area for heating E-Liquid and can therefore deliver more flavour per puff.
The only downside to the Crystal Bars' mesh coils is that they tend to consume more battery life and vape juice, which can mean for some vapers that their Crystal Bar won't last as long as a puff bar with a standard coil. Still, many vapers prefer Crystal Bars for their unique flavours and dense cloud production.
Like most other popular disposables, Crystal Bars can offer up to 600 puffs and come prefilled with nicotine salt E-Liquid. Unlike some other popular brands, Crystal Bars are only available in a 20mg (2%) nicotine strength.
Lost Mary Vapes
Lost Mary vapes are available in a range of different models, from their flagship Lost Mary BM600 range, shaped like a matchbox, to their Lost Mary QM600 range, which has a translucent shell and a flatter, longer shape.
Lost Mary vape devices were originally created in a collaboration with Elf Bar, with Lost Mary designing the devices and Elf Bar supplying the flavours. Now, Lost Mary is its own worldwide brand outside of the Elf Bar shadow.
There are a number of fake Elf Bar and Lost Mary vapes in the illicit market, too, with clones and dupes galore. When you buy a Lost Mary, you should always verify its authenticity.
Lost Mary vapes, like other disposables, come pre-charged and prefilled with nicotine salts, offering up to 600 puffs each. They come in a wide array of unique and delicious flavours, though like the SKE Crystal Bar, they're only available in a 20mg (2%) nicotine salt strength.
Elf Bar Disposables
The Elf Bar brand produces a range of different models, including the classic Elf Bar 600 and the new, more eco-friendly version, the Elf Bar 600 V2. They also have a range of cigarette-shaped vapes called Elf Bar Cigalikes, which are designed to mimic the feel of a cigarette.
Elf Bar vapes are available in a range of nicotine strengths, including the classic 20mg (2%) nicotine strength as well as 10mg (1%) and nicotine-free vapes. Elf Bar offers the widest variety of options when it comes to nicotine strength.
Like other disposables, Elf Bar vapes are filled with 2ml of nicotine salts and offer up to 600 puffs each, though their Cigalike model has slightly less E-Liquid (1.6ml) and can therefore only deliver up to 400 puffs per pen.
Since disposable puff bars became popular, the Elf Bar 600 has held the #1 spot among the most popular disposable vapes in the UK. Their Blue Razz Lemonade flavour was a top seller for us for over two years.
When comparing Lost Mary vs. Elf Bar, Elf Bar vapes can deliver just as many puffs as a Lost Mary can, but the main difference is the shape of the devices.
What are the Best Disposable Vape Flavours?
The answer to this will depend on your personal preference and what you're looking for in a vape, but the most popular disposable flavours are Blue Razz Lemonade for fans of berry flavours, Cream Tobacco for those looking for a tobacco-flavoured vape, and Lemon & Lime for fans of citrus.
Other popular flavours include Watermelon disposable vapes, Pineapple Ice, Juicy Peach, and Cola disposable flavours.
Again, this will all come down to preference. If you're unsure to start, we have an array of disposable vape reviews on our blog to help you find your next favourite flavour, ranked by customer feedback, sales statistics, and real-life opinions from the Vape Green team!
Are Disposable Vapes Legal in the UK?
As long as the disposables have no more than 2ml of E-Liquid inside and have a strength of no more than 20mg (2%), they are legal to buy and use in the UK.
There are some counterfeits, clones, and illegal vapes in the UK currently being sold in physical shops, so be sure to keep an eye out for key indicators. If you see any disposables advertising an E-Liquid capacity higher than 2ml, or a nicotine strength above 20mg (2%), that vape is most definitely illegal. We would advise against using these, as no governing body has approved them for sale, so they may contain ingredients not listed on the packaging.
Your best bet is to buy your puff bars from a reputable UK vape store (like us) to ensure you're getting disposables which have been tested and approved for sale here in the UK.
How to Recycle Your Disposable Vape
To recycle your disposable, you'll need to take it to a recycling centre or a vape store that collects used disposables.
Because disposables contain a lithium-ion battery and some leftover E-Liquid inside, as well as plastics and metal elements, they cannot be sent to landfill. Disposables must be disposed of appropriately and cannot be discarded in regular household rubbish bins.
At the moment, the industry doesn't have an efficient method for recycling disposable vapes, which adds to the waste problem. Some brick and mortar vape stores will allow you to drop your vapes off to them for disposal, which is worth looking into if you use disposable regularly.
When in doubt, always follow your local authority's guidelines when it comes to disposal. You can also use a recycling locator tool to find your nearest battery recycling point.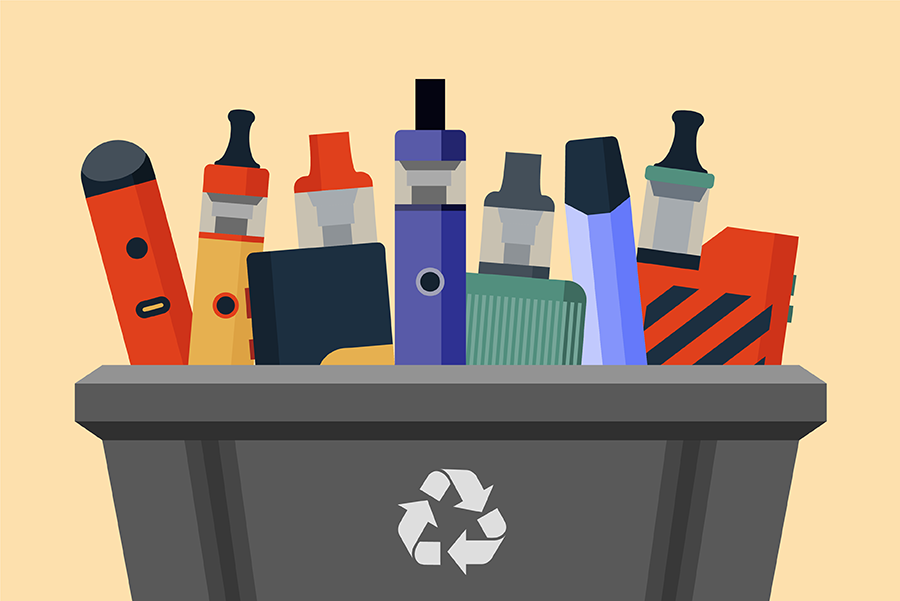 Summary
Hopefully, we've answered the question of "What are disposable vapes?" in this article. If you smoke traditional cigarettes, your health (and your wallet) will benefit from you making the switch to vaping.
All in all, we understand why disposables are so popular: they're portable, hassle-free, cheap, and discreet. They're the perfect choice for beginner vapers and for those who need something smaller and more pocket-friendly to take with them on the go.
With their nicotine salt E-Liquids, their high nicotine strength, their lack of set up, and their ultimate convenience, disposable vapes are an unparalleled choice for those who are new to vaping.
And once you've had your fill, you can easily transition to a more sustainable device, like a refillable pod kit, which will allow you to choose from thousands upon thousands of E-Liquids and customise your experience even further. The world is your oyster when you choose to switch to vaping.
So, pop open your new disposable vape and enjoy the smooth, satisfying vaping experience. And if you need any help on your vaping journey, feel free to contact us via live chat, phone, or email. Our expert customer service team is on standby to help make your transition to vaping as seamless as possible.
We're sorry this post was not useful to you!
Help us improve this post!
How can we improve this article?